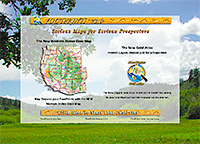 Click on the Image above to see a larger sized image in a new window.
The larger image produced is between 600 and 900kb in size and is an average resolution for the image produced by the FootPrints application.
Larger or higher resolution monitors produce larger images. Single map images exceeding 5 Mb in size are not unusual.
The FootPrints V2 interface allows you to size your mapping window to fit your needs. Full screen, small enough to allow multiple windows or anywhere in between the choice is yours.
This is the first page you will see when you start your Little San Domingo FootPrint. It has a few simple features, gives some basic information and provides a way to start your mapping with a large button graphic.
When you start your FootPrints program several things are going on behind the scenes getting your computer ready for mapping. That's why this Opening window may take a few seconds to appear, particularly the first time you start up after installing a new FootPrint map.
Any size monitor is now supported. The entire program interface can be resized whenever you like by clicking and dragging the lower right corner of the program window and releasing when you are happy with the size. You can also click the resize button on the upper right corner to zoom the window to cover the full screen.
Go ahead and try setting your window size now. It won't hurt anything and whatever size you settle on is the size your map will be when you click the start button - of course you will still be able to resize again whenever you want.
When you are ready you can just click anywhere on the "Click Here to Start Your FootPrint" button and this Opening window will be replaced by your mapping window.
At the bottom of the central white area you will find the Program version number printed in small type.