February 20 , 2010
The Arizona State Geologist, Lee Allison, has a great blog. If it has anything to do with mining & minerals in the State of Arizona he's got it covered.
Recent posts include information about the recent Arizona floods, the Tucson Gem and Mineral Show and updates on the Rosemont Copper Mine Proposal in the Santa Ritas. Take a look.


February 14, 2010
Just wanted to post up another interesting old text I came across this morning.
"Famous Gold Nuggets" by Thomas Jefferson Hurley, 1900
Its got some great stories about finding giant nuggets from all over the world. The images are not quite like the gold porn we see today. But there is nothing like the story of finding a 100 ounce nugget to get you dreaming !
"George H. Norman and Frank Aman found near Gibsonville in 1867, a nugget that weighed over 100 ounces and was worth $1700."
Ahhh...the good ole days.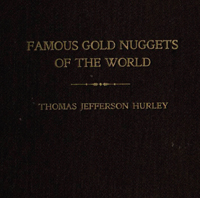 7 Mb - Click image to download