March 7
, 2010
It's another rainy day here in the goldfields of Arizona. For me, that's a time for mapmaking and research.
Here is a 3D topo map of the Lynx Creek region near Prescott, Arizona. It includes the public area and the campgrounds where anyone can go to work. Lynx Creek Recreation Area opens for business on April 1.
This a Digital Elevation Model (DEM) from the National Elevation Dataset bumped up into 3D and draped with a USGS Topo Map. Nothing fancy here, but it sure does beat a standard topo.
If you like it, feel free to download the map, print it and share it. It will print at 300 dpi on an 11 x 14 sheet. Please keep the permissions statement intact.
Click on the image for a high resolution jpeg. Right Click to Download.
(The image is large at about 7.7M)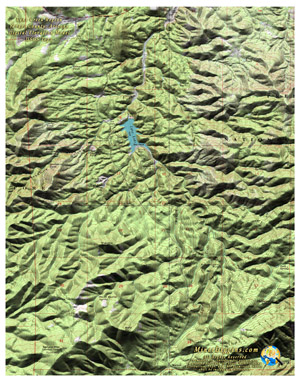 See what other maps Miner Diggins has created.
Miner Diggins Custom Map Library